Description of AMSR2 Images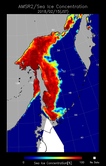 The above images show the sea ice concentration estimated from the data acquired by AMSR2(Advanced Microwave Scanning Radiometer-2). Sea ice concentration is a ratio of ice cover per unit area. The open water area is 0% and the sea ice covered are is 100%. In this image, the sea ice concentration below 10% is cut down to 0%. The white indicates unobserved area.
The AMSR2 onboard the GCOM-W satellite is a remote sensing instrument for measuring weak microwave emission from the surface and the atmosphere of the Earth. From about 700 km above the Earth, AMSR2 will provide us highly accurate measurements of the intensity of microwave emission and scattering.
Attention:
A point to note is that there could be errors in estimating along the coast line. Additionally, the error will appear when a heavy low pressure system passes.

Description of MODIS Images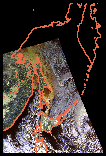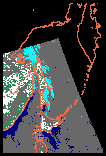 MODIS (Moderate Resolution Imaging Spectroradiometer) is an optical sensor aboard the Terra and Aqua satellites. The images introduced here are received and elementally processed by JAXA Earth Observation Center (EOC). Subsequently, JAXA Earth Observation Research Center (EORC) does the near-real-time processing and makes the data public.
The 3 channels composite images (left two images) are false color composite images which allocate Ch.4 (wavelength 545 - 565 nm in the green band) of the MODIS sensor for red, Ch.2 (wavelength 841 - 876 nm in the near infrared band) for blue and Ch.5 (wavelength 1230 - 1250 nm in the shortwave length infrared band) for green. The sea ice and cloud can be distinguished, because the sea ice is emphasized in the light flesh color and cloud is emphasized in white.
The cloud flag image (right two images) is the result from using a high processing system for Global Imager (GLI) of MIDORI-II.
The images of last season can be seen in the
"backnumbers"
page. In last season, the MODIS data used in this site were received and elementally processed by Tokai University Research and Information Center (TRIC).
The color legend of the cloud flag image
| | | | | | |
| --- | --- | --- | --- | --- | --- |
| Darkcyan | | Seaice | Seagreen | | Land |
| White | | Snow over land | Dimgray | | Clouds |
| Cyan | | Snow over Ice | Gray | | Cloud Shadow |
| Navy | | Water (open ocean) | Black | | Not executed |
Reference page:

Related Links